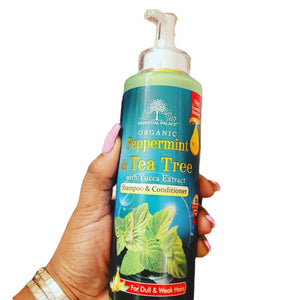 This unique Shampoo/Conditioner dual formula is the ultimate cleansing product for any hair type. Tea Tree and Peppermint oils both have nourishing and antimicrobial qualities. Hence, cleansing the scalp and hair of impurities, while promoting a healthier scalp condition for optimal hair growth. Yucca Extract is ultra moisturizing and full of nutrients as well.
Directions:
Use Wash to cleanse scalp thoroughly, repeat as needed. For deeper cleansing, pair with one of our scalp massagers. Rinse hair thoroughly and proceed to styling.
This wash can also be used as a clarifying wash for locks, braids etc.
Ingredients:
Raw Peppermint Extracts, Tea Tree Oil, Hibiscus Extracts, Cocamidopropylbetaine, Vitamin E, Glycerin, Vegetable Essential Oil Blend, Shea Butter, Menthol, Moroccan Argan Oil, Carrot Oil, Amla Oil, Yucca Extract, Aloe Leaf Juice, Tocopherol, Calendula Officinalis Flower Extract, Jojoba Oil, Opuntia, Black Seed Extract, Ficusindica Extract, Zingiber Officinalis Extract, Distilled Water, Fragrance 
Warning: Avoid applying on open wounds, cuts or getting into the eyes. Keep out of the reach of children. Discontinue use if skin irritation occurs.
The manufacturer is responsible for all claims regarding this product.
Store in a Cool and Dry Place.
100% Natural & Vegetable Base
Manufactured by Essential Palace
Sold by Grace of Melanin 
16 oz. Bottle