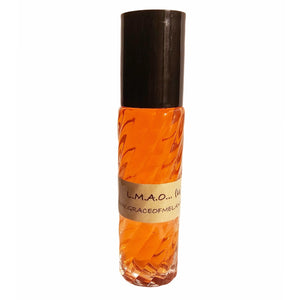 Lick Me All Over is a scent that is self explanatory. It is a seductive fragrance that speaks to the sensuality in everyone. It is a juicy, delicious fragrance made of mouth-watering, fruity notes like raspberry, cantaloupe and watermelon combined with floral notes of exotic jasmine and sweet violet. It is a unisex scent that indeed gets you ready for sensual days and nights.
This is for the grown and sexy....
Top Notes: Grapefruit, Kumquat




Middle Notes: Jasmine, Soft Violet




Base Notes: Raspberry, Cantaloupe, Watermelon



___________
WARNING: For external use only. Do not get into eyes or ingest. Discontinue use if skin irritation occurs. Keep out of the reach of Children and Pets.
1/3 oz. bottle (rollerball application)        
What does the (W), (M), and (U) next to some of the fragrance names mean? 
That is our way of designating what gender the Fragrance and Body Oil was intended for. 
(W) = Women
(M) = Men
(U) = Unisex
Disclaimer: *Name trademarks and copyrights are properties of their respective manufactures and/or designers. We have no affiliation with the manufactures/designer. Our interpretation of these fragrances was created through chemical analysis and reproduction. The purpose of this description is to give the customer an idea of scent character, not to mislead or confuse the customer or infringe on the manufactures/designer's name and valuable trademark. We do not represent our products to be original or do we represent that they are exact copies; therefore, they do not violate any copyright laws. Any references to brand names are made strictly for comparison purposes only.