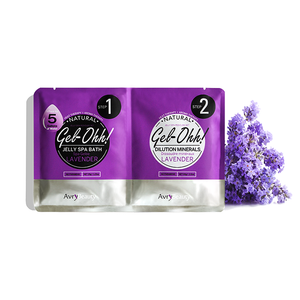 Product Description
AVRYBEAUTY GEL-OHH!
Each Unit Includes Two Packets:
Packet 1

 - Turns the spa bath water to Jelly.

Packet 2

 - Dissolves the Jelly so you can safely drain. 
Benefits:
Heat Therapy 

(Holds heat from hot or warm water 5 times longer than water alone)

Aroma Therapy
No Harmful Chemicals or Preservatives 
Environmentally Safe & Friendly Formula
The Ultimate Spa Pedicure experience for relaxation using heat therapy which soothes aching joints and muscles. Avry Beauty Gel-Ohh is 100% FREE of harmful chemicals or preservatives and is fully bio-degradable. 
Instructions:
Tear open packet 1 and pour into spa foot bath water. Fill water bin 3/4 full to ensure jelly is not too thick.
Watch as the water turns into jelly!
When ready to pour out or drain, open packet 2 and pour onto jelly.
Jelly will start to dissolve. Once fully dissolved you may drain. 
VERY IMPORTANT: DO NOT DISCARD WATER or turn on drain until jelly is fully dissolved and liquid like. Not recommended for sensitive skin.

For external use only. Do not apply to broken or irritated skin or areas affected by rashes. Keep out of reach of children. If skin sensitivity occurs, discontinue use.