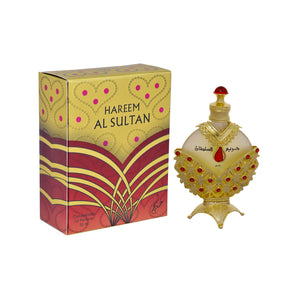 Search no more, in-stock and ready to ship!! AUTHENTIC!!!
Hareem Al Sultan Gold Perfume Oil-35ML by Khadlaj is a luxurious and sophisticated fragrance that can make anyone feel more confident and glamorous. The fragrance is composed of top notes of rose and bergamot, which give it a fresh and floral scent.
The floral notes of Hareem Sultan fragrance body oil creates a feeling of elegance and is suitable for both men and women. This fragrance is suitable for any occasion, whether a special event or a night out.
The fragrance has a long-lasting effect that can linger for hours. The oil-based formula allows the fragrance to stay close to the skin, creating a subtle yet alluring scent that can be enjoyed by the wearer and those around them.
Top Notes: Bergamot, Tangerine, Apple, Black Currant and Nectarine

Middle Notes : Magnolia, Gardenia, Lily-of-the-valley, Freesia and Jasmine

Base notes: Amber, Patchouli, Vanilla, Musk and Sandalwood 
35 ml /1.18 oz size
Manufacturer/Distributor: Khadlaj
Sold by: Grace of Melanin