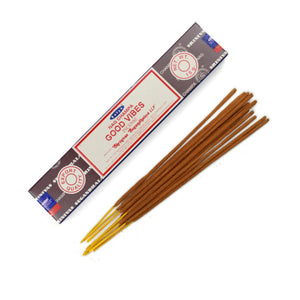 A traditional Masala incense. Hand-rolled from the finest oils, powders, gums, and resins available. These incense sticks will diffuse relaxing aroma that would purify any area by eliminating negative energies and evoking positive vibes, making them suitable for any home or office area. Welcomes Good Fortune, Love, and Creativity: The fragrance is said to create a tranquil environment that welcomes love, creativity and good fortune.
Each box contains 15 sticks, each one is about a gram, and burns for up to 45 minutes. A product by Shrinivas Sugandhalaya Original and authentic product by Satya Sai Baba.
Made in India.
What are Incense? Incense are made from organic material that release a fragrance when burned. Incense have been used for thousands of years starting with Egyptians who used them for rituals, warding off evil spirits, repelling insects, and simply to cover up bad odors. Nowadays you will find incense used in prayer, meditation, in homes for their calming affects, and to set a certain ambiance.