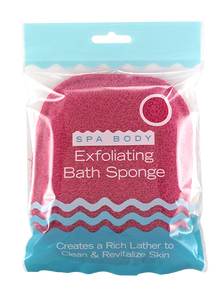 This sponge creates rich lather to clean and revitalize skin. Use the strap to slip our exfoliating bath sponge over your hand to clean and revitalize your skin. Effective in stimulating blood circulation. Enjoy a refreshing and stimulating bath or shower massage. Gently exfoliates unwanted dead skin cells.
To Use:
Wet with water and apply any GoM soap or shower gel.
Massage over body in a circular motion to cleanse skin.
Rinse after each use and air dry. 
Dimensions:5.5x1x9