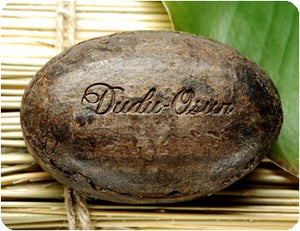 100% VEGETABLE BASED.
Formulated entirely from natural ingredients and herbs, many handpicked in Africa, this soap will have you feeling refreshed and silky smooth. Dudu Osun restores damaged skin and is helpful in healing chronic eczema, acne, freckles, and dark spots. Use with one of our facial brushes or body tools, product will work even better.
Ingredients: Pure honey, Shea butter, Osun (Camwood), Palm kernel Oil, Cocoa pod ash, palm bunch ash, Aloe Vera, Lime Juice, Lemon Juice, Water and Fragrance.
More About Black Soap:
Wholesome ingredients such as dried plantain skins, palm leaves, and cocoa powder just to name a few are gently hand blended to perfection with healing Shea butter in a delicate process used traditionally for hundreds of years in West Africa, the results are an amazingly effective all natural beauty product without even a drop of chemicals. No artificial colors. No preservatives. No harsh chemicals. Black soap also referred to as Anago Soap or Ose Dudu is a natural source of vitamins A & E and iron. The delicate natural formula makes black soap perfect for hands, face, body, and even hair care. A large majority of the black soap available is produce in Ghana and Nigeria, however other regions also have additional versions with specific recipes (formulations) varying on the region.
Warning: For external use only.
Do not get in eyes.