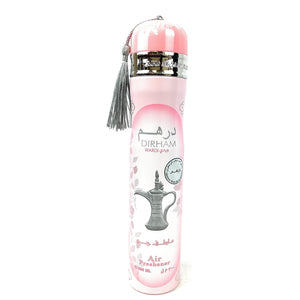 Dirham Wardi Air Freshener by Ard Al Zaafaran is perfect for your home. Looking for an everyday scent? Or a rich and deep Arabian Oud fragrance? Look no further. This Arabian air freshener will be perfect for sprucing up your environment.
Top Notes: Sweet Berries, Raspberries, Pink Pepper, Bergamot 
Middle Notes:Roses, Peonies, Lilies of the Valley
Base Notes:Patchouli, Iris, Sandalwood, Musk
A luxury air freshener spray can be a gift for your daily home use of 300 ml in quantity.
Stain-free formula with a long-lasting tendency is safe to be used in cars, rooms, and bathrooms.
Spray bottle using the aerosol can air freshener spray. The fragrance is atomised to diffuse in the air creating a blissful environment.
These air fresheners transform your surroundings into an instant aura of freshness and relaxation.
Upgraded air freshener room spray designed for each type of fragrance flavour, elegant and immaculate.
Alcohol-free air freshener with 100% natural ingredients, you can confidently freshen your home every day with this room spray.