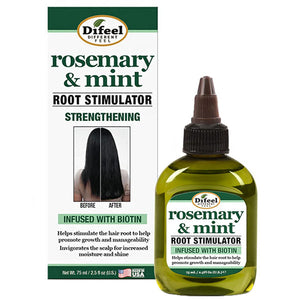 Difeel Rosemary & Mint Root Stimulator Infused with Biotin. Conditioning & Strength Down to the Roots - Difeel Rosemary & Mint Strengthening Root Stimulator is infused with nourishing Biotin. Biotin plays an important role in the health of your hair, skin, and nails. A lack of Biotin can lead to hair loss.
For Stronger, Fuller and Thicker Hair - Strengthening Root Stimulator is specifically formulated to target the root for increased growth, overall manageability, and shine. Repairs dry and damaged hair to im
prove overall hair strength and growth Invigorating Formula- This expertly blended formula provides intense moisture and shine, working deep down to the roots, while its infusion of Biotin encourages healthy hair growth.
Root Stimulating Mint Oil for Hair Growth

Sulfate Free

Paraben Free

Phthalate Free

Color Safe Formula

Rosemary Hair Growth Oil Root Stimulator Proudly Made in USA with natural ingredients.
Directions: 
Apply small amount of stimulator onto scalp, use our scalp massager for deeper penetration.
Warning: Avoid applying on open wounds, cuts or getting into the eyes. Keep out of the reach of children. Discontinue use if skin irritation occurs.
Store in a Cool and Dry Place.