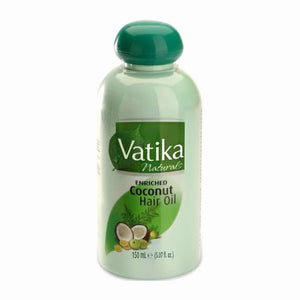 Healthy hair, starts with a healthy scalp.🤎
Dabur Vatika Hair Oil is a premium coconut hair oil enriched with Henna, Amla (Indian Gooseberry), Lemon and five other trusted herbs. Vatika's unique natural formulation ensures deeper oil penetration. Giving your hair and scalp complete nourishment for healthier hair. While Henna forms a protective coat to prevent oxidation, Amla strengthens the hair-roots and the astringent action of Lemon prevents dandruff.
Henna - colorant, hair conditioner & restorative.
Amla - hair nourishment, delays graying & hair loss.
Harad - protects from UV rays, delays graying.
Bahera - maintains hair color.
Neem  - anti-microbial, fights dandruff & hair fall.
Brahmi - hair revitalizer.
Kapur Kachari - antiseptic.
Lemon Oil - astringent, fights dandruff.
Coconut Oil - promotes hair growth & nourishment.
Cow's Milk - natural nourishment for scalp & roots.
Regular use can help give you perfect healthy hair and perpetuate growth.
Directions:
Use oil 2x weekly to stimulate growth, especially after freshly washed & dried hair. This can add nutrients and moisture to hair/scalp. Rub small amount of oil onto hand and apply to dry hair and scalp, then style as desired. For edge treatment: apply to edges nightly and pair with scalp massager or stimulator to increase effectiveness.
In case the oil solidifies in colder climate, please immerse container in a bowl of warm water. Keep bottle away from sunlight. 
Warning: Avoid applying on open wounds, cuts or getting into the eyes. Keep out of the reach of children. Discontinue use if skin irritation occurs.
Consult your healthcare provider before use if you are pregnant, nursing or are taking any prescription medications.
These statements have not been evaluated by the Food and Drug Administration. This product is not intended to diagnose, treat, cure or prevent any disease.
The manufacturer is responsible for all claims regarding this product.
Store in a Cool and Dry Place.
Net wt 5.0 oz
Manufactured by Dabur Vatika
Sold by Grace of Melanin