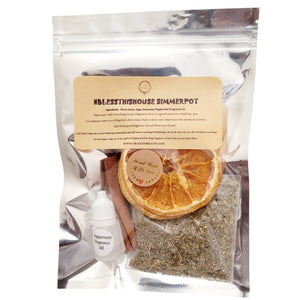 This Simmerpot is more for cleansing purposes than Aromatherapy. *Ingredients are lightweight and arrive dehydrated for Aromatherapy purposes. Please keep this in mind.🤎
What's a simmerpot? 

Simmerpots are sometimes called stovetop potpourri. Basically it's a simmering pot of dried citrus, spices, and other things to make your house smell AMAZING. Grab this all-natural air freshener for your house and use these powerful ingredients to cleanse the aura and energy of your space. 
Citrus: Symbolizing cleansing, renewal, healing, and the energy of the sun.
Sage: Clears out negativity, spiritual impurities and pathogens from atmosphere.
Cinnamon: Represents abundance, protection and passion.
Peppermint: Represents strength, protection and peace.
Ingredients:  Citrus slices, Sage, Cinnamon, Peppermint Fragrance Oil
Directions: Add everything except essential oil to 2 cups of water in a  small 3qt. pot. Let mixture come to a rolling boil, then reduce heat to low (very important this simmers on low).  Add 10 drops of peppermint fragrance oil and bless your house...

Caution: Please do not leave Simmerpot unattended, add additional water to prolong Aromatherapy, do not let water dry out, this will lead to scorching.  Do Not Ingest.  Keep out of the reach of Children and Pets. Keep Fragrance oil away from eyes and open flame.