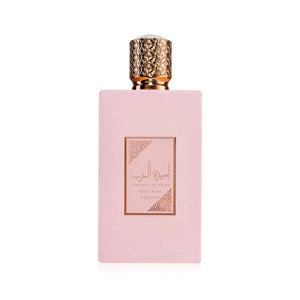 Search no more, in-stock and ready to ship!! AUTHENTIC!!!
Shared similarities with PDM Delina Exclusif. Valued at $375.🤎
Ameerat Al Arab Privé Rose by Asdaaf is an exotic and attractive fragrance for women. Delicate top notes of rose and peach take you on a whirlwind of freshness and sweetness. Floral touches balance the whole and create a perfume that envelops you like a cocoon of well-being. Vanilla in the base note gives sophistication and sensuality to the scent that will accompany you all day.
Top Notes: Strawberry, Musk, Peach.
Middle Notes: Rose, Vanilla, Apple
Base Notes: White Musk, Cashmere Wood
3.4 oz / 100ml
Manufacturer/Distributor: Asdaaf
Sold by: Grace of Melanin