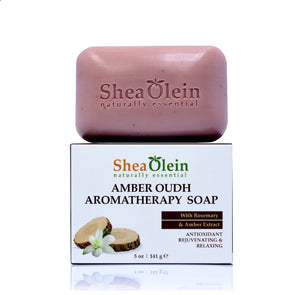 ANTIOXIDANT | REJUVENATING | RELAXING
Shea Olein's Amber oudh Aromatherapy Soap is real jam for skin which targets the problematic area of your skin. This relaxing body bar will serve as a  must  have in your skin care arsenal due to it's ability to remove micro abrasions while simultaneously tightening the skin for an almost unbelievably ageless appearance.
INGREDIENTS
Coconut Oil, Palm Oil, Vegetable Glycerin, Natural Amber Extracts, Rosemary Essential oil, Australian sandalwood essential oil, Citric Acid & Natural Pigments. 
Net Wt: 5oz 145g