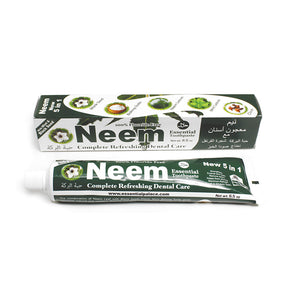 Protect, strengthen, and thoroughly cleanse your teeth and gums with this neem toothpaste. Neem leaves and Black Seed extract work to help heal gingivitis, gum disease, and reduce toothache or mouth soreness. Antibacterial qualities of the ingredients can help to heal gum disease and reduce plaque.
Made in India. 6.5 oz.
Other natural ingredients can help to whiten teeth, remove stains, strengthen enamel, freshen breathe, and protect your gums.
INGREDIENTS: Sodium Lauryl Sulphate, Silica, Sorbitol, Sodium Carboxy Methyl Cellulose, Baking Soda, Black seed, Neem leaves, Mint, Clove.
These statements have not been evaluated by the Food and Drug Administration. This product is not intended to diagnose, treat, cure or prevent any disease.
The manufacturer is responsible for all claims regarding this product.