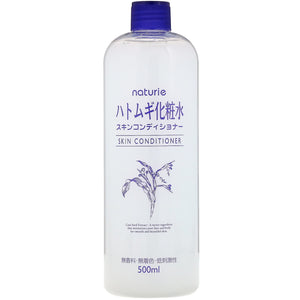 NATURIE Hatomugi Skin Conditioner/Toner contains Coix seed extract(Jobs Tears) that penetrate moist into deeper layers of skin and keeping skin moist and firm. The seed extract keeps skin's water level balance, allowing skin to shine and radiate. It deeply penetrates the skin to hydrate, soothe, and prep the skin for serums and moisturizer. This facial essence is rich in vitamin B and amino acids, to boost hydration and achieve soft, super-glowy skin. This XL bottle will last you a while.
Hatomugi Essence: A member of the genus Gramineae, also known as grasses, Hatomugi is rich in B group vitamins, protein and amino acids, and has been used since ancient times for beauty and health. Hatomugi Essence, which is extracted from Hatomugi, is a beauty ingredient that enhances the skin's moisture retention capability leading to better skin hydration.
Hatomugi essence extracted from Hatomugi contains 12 amino acids.
Amino acids are the main components of the natural moisturizing factor (NMF) naturally present in skin. It is an essential component for maintaining the normal barrier function, shielding the skin from dryness and external irritants.
Rich in amino acids, Hatomugi essence supplements NMF. As a beauty ingredient, it supports the skin's barrier function leading to enhanced moisture retention.
How To Use: Use it after cleansing, with hands or saturate a cotton pad and softly smooth lotion evenly over the face, following up with a serum or moisturizer. **Pro Tip: Put in a clean spray bottle and spray on skin for an easier application.
• Brand: Hatomugi
• Made in Japan
• Content: 500 ml
• Product Type: Skin Conditioner 
• Skin types: All skin types
• Skin concerns: Uneven Skin Texture, Visible Pores, Dullness, Dryness
Ingredients: WATER (AQUA), DIPROPYLENE GLYCOL, BUTYLENE GLYVOL, GLYCERIN, DIPOTASSIUM GLYCYRRHIZATE, COIX LACRYMA-JOBI (JOB'S TEARS) SEED EXTRACT, STYRENE/ ACRYLATES COPOLYMER, ALCOHOL, CITRIC ACID, SODIUM CITRATE, METHYLPARABEN, PROPYLPARABEN