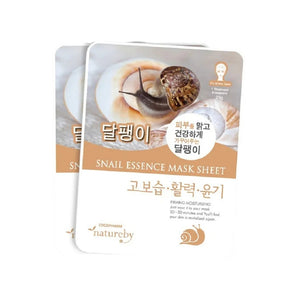 This amazing facial mask is made from snail extract essence, which contains various nutrients. It deeply hydrates, firms, moisturizes skin, shrink pores and glows up your skin.
How to Use:
1. Clean your skin with any GOM soap or facial cleanser.
2. On clean skin, take the facial mask out and adhere the essence side to your face.
3. Pat mask close to your face to remove air pockets.
*Bonus tip, use jade roller and gently massage face for better absorption.
4. After 20 minutes, remove mask, no need to rinse off. Pat the remaining essence into the skin for more benefits.
Functions: Hydrate, Firms, Moisturize, Shrink Pores, Glowy skin.
** Contains 1 cloth sheet mask.