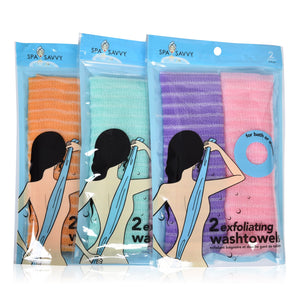 Excellent for gently buffing away dead skin cells, opening clogged pores and cleansing the skin of impurities. This Exfoliating Towel will make you feel clean and will help make your skin feel silky smooth. A mainstay in Asian bathing cultures, this towel not only cleans but massages the skin and stimulates the circulation of blood throughout the body. Length of the towel allows you to easily reach your back.
Follow up with our Body Enrichment Balm for ultimate soft and supple skin.
Measures 27.5" L x 11" W x 1" D
100% nylon
Easy to clean. Rinse well and hang dry.
Random color sent.