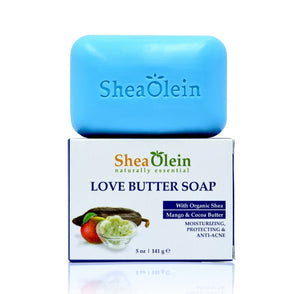 INVIGORATING | RESTORATIVE | ANTI AGING
Shea Olein Love Butter Body Bar leaves the skin in an almost unfathomable state of youth.  This anti ageing bar will serve as a must have in your skin care arsenal due to it's ability to enhance the skins overall appearance while serving as an absolute sensory delight, both awakening the senses while imbuing the user with an unbelievably enchanting aroma.
INGREDIENTS
Coconut Oil, Palm Oil, Vegetable Glycerin, Certified Organic Shea Butter, Certified Organic Mango Butter, Certified Organic Cocoa Butter, Mineral Pigment, Fragrance Oil, Citric Acid.
 Net Wt: 5oz 145g