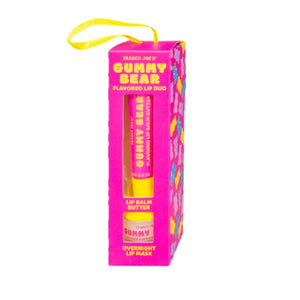 Search no more and skip the long lines...
This set comes with one tube of Lip Balm Butter and a tub of Overnight Lip Mask, packaged together in a cute, stocking-stuffer-sized gift box, with a convenient ornament loop on top. They're each packed with some of mother nature's finest moisturizers— coconut oil, avocado oil, and shea butter. The Lip Balm Butter is terrific for everyday use—throw it in your bag or keep it in your pocket for whenever you need to moisturize chapped lips or add a boost of shine. Apply a generous amount of the Overnight Lip Mask before bed to help heal your lips while you sleep.
This Lip Duo is certainly the solution to help soothe and protect your lips, and thanks to its sweet and fruity, lip-smack inducing Gummy Bear Flavor, lip care has never tasted so good!